School Zone Flashing Lights Solar Panels Order Awarded to ECPL
by ECPL on March 22, 2013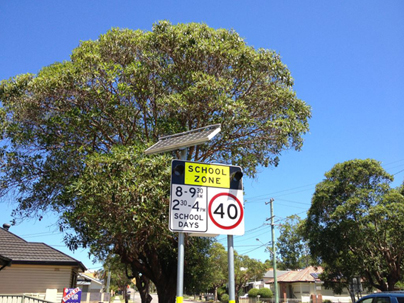 Electronic Components Pty Ltd has been awarded an order for the supply of Solar Panels for school zone alert flashing signs. This order expands our scope of supply as we were already supplying our unique
CM21-A016
cable assembly product for these signs.
Roads and Maritime Services, RMS, (formerly known as the RTA) provides a system of flashing lights and signs which alerts motorists of the periods when 40 kph speed limits apply in school zones. These School Zone Alert Sign Systems are powered by a solar panel and can be monitored and controlled remotely.
Electronic Components Pty Ltd was initially requested to provide a repeat batch of
CM21-A016
cable assemblies following the success of our first batch custom-designed cable assemblies (please refer to the previous Company News article). In addition to the cable assemblies we also successfully offered to supply the solar panels that provide the power to the flashing alert signs. We utilised our "Trusted Supplier Network" to source photovoltaic panels which exceeded the RMS specifications.
The panels we offered were both lower in cost and superior in performance to the solar panels that our customer was previously using.
Our "
RDM-80M
" solar panels utilise Monocrystalline Photovoltaic Cell Technology and come complete with TUV, CE & ROHS certifications and extensive performance warranties which provide evidence as to the superior quality and long life of our solar panels.
Electronic Components Pty Ltd is proud to once again have been selected as a supplier for this high profile and critical safety application. The repeat order for our custom designed cable assemblies demonstrates the satisfaction of our client with our products. The expansion of our scope of supply to include the solar panels shows the improved value that we provide to our clients through our professional Engineering Resources and our Global Sourcing Capabilities in combination with our Trusted Supplier Network.